Making money online is much easier than the average person knows! It's quite possible to boost your current income by a few hundred dollars per month to over a few hundred dollars per day. Anything is possible online. We've put together a list of the easiest methods to get you in the right mindset to make money online. Hopefully you will be able to create your own unique methods for making money online.
How To Make Money Online
1) Freelancing and Completing Tasks
Have you freelanced before? Are you a pro at any specialized skills such as graphic design, website development, writing articles, editing articles, voice overs, user testing? Sites such as Fiverr, oDesk, Elance, Freelancer, and similar sites will allow you to complete tasks and jobs in exchange for cash! You can easily create a free account and get started by finding projects that interest you.
2) Create an Online Store
You can sell almost anything online! Did you know that you can also sell digital goods online such as ebooks, apps, articles, and much more. If you can find a product or service to sell then you can easily setup an online store to facilitate sales! You can use sites such as tictail.com to launch a free online store.
3) Monetize Your Content, Apps, & Sites with Affiliate Marketing Tools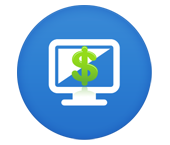 Do you have online content, apps, blogs, sites? Affiliate Marketing is one of the most efficient ways to make money online. Instead of earning for user's clicks or impressions on your content, affiliate marketing pays you a commission each time a user completes an action such as a sign up, survey completion, download, or other conversion goal. This allows you to earn much more from your content than normal display advertising methods. The best part about Affiliate Marketing is that it can be applied in many ways. You can monetize your apps and sites with an Offer Wall tool that lets your users unlock rewards, content, virtual currency, and more without directly billing the user and still earning you profit from your users! Other methods of Affiliate Marketing include Content Locking, which is another tool that can monetize content and easily integrate with your sites & apps.
4) Park & Sell Domains
Are you good at coming up with domain names? Our favorite place for buying domains is NameCheap.com. You can park domains and then monetize them with traffic they receive naturally online until you are able to sell them in auction or through a broker. Ad networks such as trafficz.com and skenzo.com are great services for monetizing parked domain traffic. When you are ready to sell your domain you can list it on the largest exchange at sedo.com. It's that easy to make money with domains!
5) Get Paid to Click or Paid to Take Surveys
This method is one of the most popular ways to make extra change online. Sites such as bigspot.com, cashcrate.com, and mysurvey.com will pay you cash for completing surveys and other special offers! You can easily log on these sites a few times a week to earn over $20 per week for taking quick surveys.
6) Become a Blogger
Are you an expert in a niche? Do you have valuable experience that you can share with users? It's easy to start a blog through Blogger without any knowledge of making websites. Once you produce a few quality articles, you can promote them through social marketing such as Facebook and Twitter exposure. Your articles should also get natural traffic from Google and other search engines. This flow of natural traffic is optimal for monetizing your blog! You can then use a service such as Google AdSense, Chikita, Kontera, and other display advertising networks to monetize traffic on your site! It's important to blog frequently, at least once per week, to maintain your rankings in the search engines.
7) Become an App Tester
Make money in your pajamas! Get paid for testing and reviewing apps in the comfort of your own home. Sites such as usertesting.com and myappratings.com will pay you cash for taking a few minutes to test & review an app!
Resources to Make Money Online
Here are some of the best resources to continue your education of making money online:
Share Your Own Methods to Make Money Online
Join the discussion and let us know your favorite ways for making money online in the comments section. Feel free to share your own tips and advice.